Gardening Supplies In Australia Online
There are a variety of reasons why people need gardening supplies. Some of us just like to be out in the elements, engaging in battle against the Australian climate, whereas others do it as a means to relax and switch off from the daily grind. No matter what your reasons are, one thing is certain, once you have even a small patch of earth to work with you can engage in this wonderful practice and before long reap the many rewards associated with it.
Read More
Gardening Supplies
Here at Sage Horticultural, we make gardening supplies affordable and accessible to those that have an inclination to get their fingers green no matter where they live in Australia. We are based in Hallam, Victoria, and our family run business has been part of the gardening community for over 35 years.
Our longevity and presence is a testament to the value that we endeavour to bring to our customers. Not only will you find a huge variety of high-quality products at extremely competitive prices that will ship anywhere in the country, but our team has amassed a huge amount of knowledge and expertise that we are more than happy to share with you.
We all need a little technical advice from time to time, and those that are embarking on a new plantation may require interpretation of leaf and soil analysis, which can afford them the possibility of choosing the appropriate fertilisers. Furthermore, we offer service, repairs and spare parts as well as the commissioning of new Javo Potting Machines.
Gardening Supplies Online as a Positive Addition to Your Life
At Sage Horticultural, we are the go-to choice for those that need gardening supplies Australia can depend on. However, we appreciate that while for some, their efforts are a means to deriving an income, other people may be pursuing this fulfilling practice in order to achieve something different.
Even if you are an amateur that has little to no experience but have heard of the benefits that gardening can do for your overall wellbeing and mental health, rest assured that you are more than welcome to peruse our showroom and feel part of our wonderful community.
Gardening is a great way to become mindful and present. Your focus on digging or clipping or watering will take your mind off the daily worries you might have and will simultaneously provide you with a positive sense of completion after you finish your work for the day.
What's more, the physical exercise that you engage in, even just walking around the greenhouse or through your crops, will boost feelings of happiness and contentment. What's more, in caring for and nurturing plants, crops, shrubs or flowers from seed to sprout to bloom or harvest, this will give you a meaningful activity to engage in that will also teach you a lot and bring about a sense of achievement and accomplishment.
Buy Your Gardening Supplies Online in Australia
Here at Sage Horticultural, you will be able to find gardening supplies online that will help you get the results that you want, no matter how large or small your undertaking is. Small beginnings can lead to big changes in your life and in pursuing gardening you may just find a vocation that has been missing from your life to date, and one that could afford you many years of contentment and happiness.
So, whether you are just starting or thinking about expanding what you have, don't hesitate. Get in touch with us, or order whatever you need from our online store. We are here from Monday to Friday 8:30 AM to 5 PM, and we would love to assist you in your gardening adventure in any way that we can.
Read Less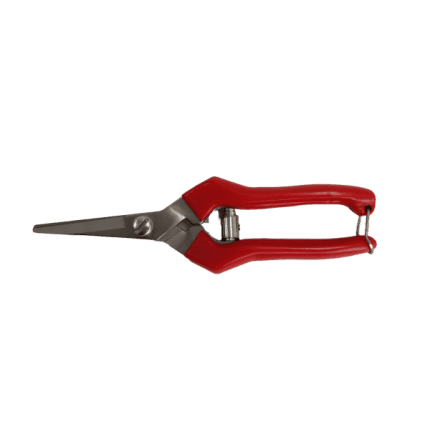 Long Blade Straight Snip. 58mm straight hard chrome blade, steel handles and PVC grips. Used for finer pruning work including