Plastic Plant Pots & Garden Pots for Sale Australia
Whether gardening and horticulture is your hobby or part of your course of business, one gardening supply you can never allow to run low is your stack of plastic pots, trays and crates.
Keep your supply of plastic plant pots and trays fully stocked up with our great bulk buy deals. Here at Sage Horticulture, we offer great deals online when you buy our high quality, affordable plastic planting pots, trays and crates.
Read More
Are You Looking for a Range Of Plastic Pots for Sale Online?
Pot and plant to your heart's content with the ability to purchase individual units or avail of bulk buy deals. You don't need to take a trip to a garden supplies centre for a simple essential like pots and trays, you can get everything you need with just a few clicks of your mouse.
Our Plastic Pot Collection Includes:
Our great range of wholesale pots includes, but is not limited to:
Forestry Trays
Forestry propagation trays and containers are essential for promoting healthier, more durable roots, promoting root growth downward. Purchase individual 40 cell block forestry trays for holding crack pot liners from our online store.
Crack Pot Liners
Crack pot liners further complement the stimulated downward root growth offered by forestry propagation trays and containers. Whether you just need a couple of liners or need to buy thousands in bulk, we can ensure the most competitive prices.
Plastic Pots
We are wholesale stockists of small, medium and large plastic plant pots, stocking 50mm, 75mm, 100mm, 125mm, 140mm, 150mm, 180mm, 200mm, 250m, 300mm, 400mm and 500mm plastic pots for plants. Whether you need to plant up seedlings, trees,  shrubs or single blooms, you can easily order any bamboo stakes you need from our online store.
Square Pots
Square plant pots are essential for planting shrubs andflowers. We offer both 70mm and 90mm size square plant pots in affordable packs of 20 and at discount bulk buy prices for packs of 240 (90mm) and packs of 400 (70mm).
Square Pot Crates
Rounding up our extensive range of plastic pots, trays and crates are our square plastic pot crates. Our square pot crates are ideal for housing square pots and accommodating your container gardening needs.
We're Australia's Leader in Plastic Pots Online
At Sage Horticultural, our great range of gardening supplies doesn't end at plastic pots and trays. We are your complete online one-stop shop for all things horticulture. From greenhouses to propagation equipment, aluminium glasshouses to potting machines, water saving equipment to handling equipment, fertilisers, soil conditioners and much, much more.
We challenge you to find a more extensive stock of high quality gardening supplies Australia wide. Can't find what you need? Give the expert team at Sage Horticultural a call today on 03 9796 3100 and we will do our best to source it for you. We're happy to offer advice, guidance and assistance to help you find the best fit supplies for your gardening needs.
Plastic Plant Pots
If you are the kind of grower that has a lot of plants, a lot of crops and the need for a lot of vessels to hold them in, then one of your key issues will be accessing the kind of pots that will give you the kind of support and durability you need as well as being affordable in large quantities. Plastic plant pots are one of the more dependable choices in this regard and are the gateway choice for those that are starting out their gardening endeavours and are hoping to achieve a lot without having to spend a small fortune.
Australian green fingers can depend on the team here at Sage Horticultural to deliver an exceptional range of choice when it comes to plastic plant pots. We are the market leaders where manufacture and supply of high-quality gardening and horticultural products are concerned.
Our presence in the marketplace for the past 35 years stems from the fact that we are a family run business that back all of the goods that you can find in our online store and Victoria showroom with a level of service and technical expertise that is second to none.
What You Gain in Choosing Plastic Pots
A plastic pot will without a doubt be one of the mainstays of your years in gardening. Regardless of whether you have a preference for clay or stainless steel over plastic, the fact remains that in some instances it will not be practical or economically reasonable to opt for those more expensive choices.
The good news is that plastic pots for plants offer exceptional value for money. They are not nearly as brittle as clay, and they won't rust like stainless steel will, which ensures that you can retain the same aesthetic in your garden for longer. Furthermore, since plastic does not absorb water, you don't need to worry about them rotting.
As an Australian gardener, you will engage in battle on a near daily basis with the sun. Another benefit of plastic planter pots is that they will resist persisting and harsh sunlight, and as such, they make for the ideal choice if your plants will be exposed to UV rays more often than not.
At Sage Horticultural, we love that large plastic plant pots offer a much lighter choice to those that like to change their garden on a regular basis. If you were to compare the weight of a clay pot with an equivalent plastic alternative, the simplicity of moving one versus the other does not compare. As such, those that perhaps require some assistance when lifting or moving may find them a perfect choice.
Large plastic pots that are square will also hold much more soil compared to the round equivalents. As such, you need not think that in order to plant and grow large trees you must turn to the clay or terracotta option for proper support.
Wholesale Pots Delivered Direct from Victoria
At Sage Horticultural, our wholesale pots collection enables gardeners and horticulturalists from all parts of Australia to embrace their green leanings and maximise their use of the space. We offer the perfect small pots to complement city apartments, together with a range of pot sizes that will afford the possibility to make their garden or greenhouse a diverse and vibrant space.
So, if you are now convinced of all of the opportunities and time-saving benefits that plastic pots bring, why not browse our wholesale plant pots, now available?
How Wholesale Pots Make Gardening Easier and Accessible
Each gardener will have preferences in terms of how they believe their shrubs and plants and flowers should be cared for. However, those that want to access wholesale plastic pots likely appreciate the benefits associated with gardening in this way, as opposed to tending an actual garden.
The key benefit from engaging your green fingers in this way is that you open up so many more possibilities regarding how you will use the space you have, but also in terms of how adaptable it is either season-by-season or even on a daily basis.
Some plants cannot be grown in the same soil simply because they won't complement each other, and one will likely dominate. However, with plastic pots, you can cater individually to all of your plants and organise them so that they coexist side-by-side without the negative consequences.
Those renting accommodation or living in apartment buildings that have bought our wholesale plant pots, note the sense of life that they were able to bring to their formerly brick and mortar world. The presence of flowers and ability to move them as and when needed to catch the sunshine adds a sense of welcome and improves the overall aesthetic of their space.
Benefit from Our Advice For Plastic Pots 
At Sage Horticultural, we encourage you to browse the variety of plastic plant pots we sell online. No matter where you live in Australia we are committed to delivering so that you don't have to shop around or hope that somewhere local will offer them at the kind of pocket-friendly prices we do.
We are open Monday to Friday from 8:30 AM to 5 PM, so if you are in the vicinity feel free to drop in or give us a call if you would like to discuss any of our products or benefit from our technical expertise and advice before you buy.
Read Less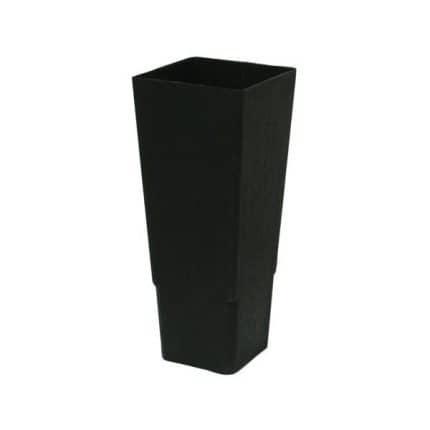 Native Tube 50mm – Packs of 20 50mm Square Forestry Tube – Reko Volume: 210ml Diameter: 50mm Height: 120mm Please