Black Plastic Garden Pots
Any garden or allotment offers a wealth of potential. Those starting out may have predetermined ideas of what they want to grow whereas others may want to start small and see how things progress. Regardless of your experience or level of planning for the garden and plants that you want to tend to black pots are going to become a staple of your world in the not too distant future.
Here at Sage Horticultural, we have sold our gardening and horticultural products to Australia for over 35 years. Our family-run business operates out of Hallam, Victoria, but is here to afford you a dedicated place where you can find all of your horticultural and gardening needs and depend on a speedy delivery service that is bolstered by superior prices.
Read More
Black Pots for Sale Online
As proud members of the Nursery and Garden Industry Australia, you can feel assured that we will bring you a wide range of premium quality products & gardening supplies that will serve you well as you start or expand your gardening endeavours.
What's more, if you are operating on limited knowledge, or need an expert opinion before you commit to a purchase, rest assured that technical advice is available. We have seen it all and done it all before, and we would enjoy nothing more than to assist you in achieving your goals in any way that we can.
Why Black Plastic Pots Are a Value for Money Choice
Here at Sage Horticultural, black plastic pots are one of our most popular products. Gardeners everywhere appreciate the simplicity of design and their wonderful adaptability. While terracotta pots bring a certain level of sophistication to any garden, plastic is a much more durable material and is the perfect choice for those who are at the beginning of their gardening efforts.
They are inexpensive to acquire, so you don't need to worry about having to invest a lot of money to get your fingers green and since they do not absorb water, you don't need to even consider the possibility of them rotting or becoming damaged as a result of exposure to the harsh rays of the sun.
The obvious advantage derived from using black plastic garden pots is that they won't require a whole lot of effort to move them about or handle them. They are lightweight and, therefore, easy to transport so that you can move forward with your day and get your garden work completed without requiring the assistance of someone else to shuffle things around.
At Sage Horticultural, our customers appreciate the reduction in the mess created by plastic pots as opposed to clay pots, for example. As such, they are a good choice that can be used both indoors as well as outdoors and, of course, because of their affordable pricing they are easy to replace as and when the time arrives.
Some people bemoan the fact that they bring little decoration to a garden. However, those with a creative inclination will see their blank canvas as an opportunity to paint and embellish as they see fit.
The Best Black Plastic Garden Pots
Here at Sage Horticultural, we have a wide range of black pots, plastic plant pots and square plant pots ready to ship. Whether you need square or circular pots, you will find a variety of sizes, and we anticipate that our prices will pleasantly surprise you, and possibly enable you to make your garden budget stretch a little further.
So, have a browse of all that we have to offer and if there is any way that we can help you with your order, feel free to get in touch. We look forward to sending the best of horticultural and gardening supplies your way soon.
Read Less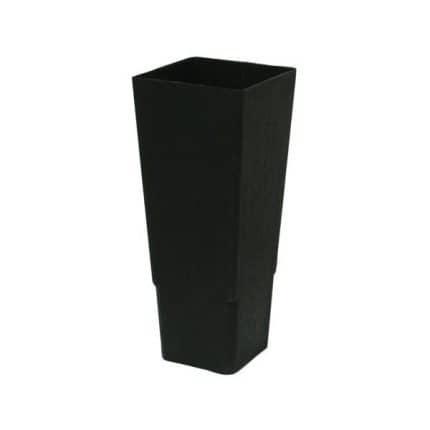 Native Tube 50mm – Packs of 20 50mm Square Forestry Tube – Reko Volume: 210ml Diameter: 50mm Height: 120mm Please