Greenhouse Australia & Horticulture Supplies
How can you ensure that your plants are given the best opportunity for growth? Invest in a quality green house of course!
Green houses provide the shelter from the elements, offering up the most optimum conditions that your plants need to thrive. They also provide shelter for you the grower to comfortably tend to your plants no matter the weather. Greenhouses are pretty much essential for the home gardener as well as the commercial grower. When it comes to greenhouses for sale, there are a number of options – Glass houses and plastic tunnel houses being the two core categories. Where do you turn for the best green houses Melbourne and Australia has to offer? Why Sage Horticultural of course!
Read More
At Sage Horticultural, we offer a great selection of greenhouses both online and in store. We have a full range of greenhouses and plastic tunnel houses that we can ship to gardeners, both commercial and home gardening enthusiasts. Each greenhouse is ideal for housing a range of plants including Australian natives, vegetable seedlings, tropical varieties and cut flowers. When it comes to greenhouses, we really are a one-stop-shop!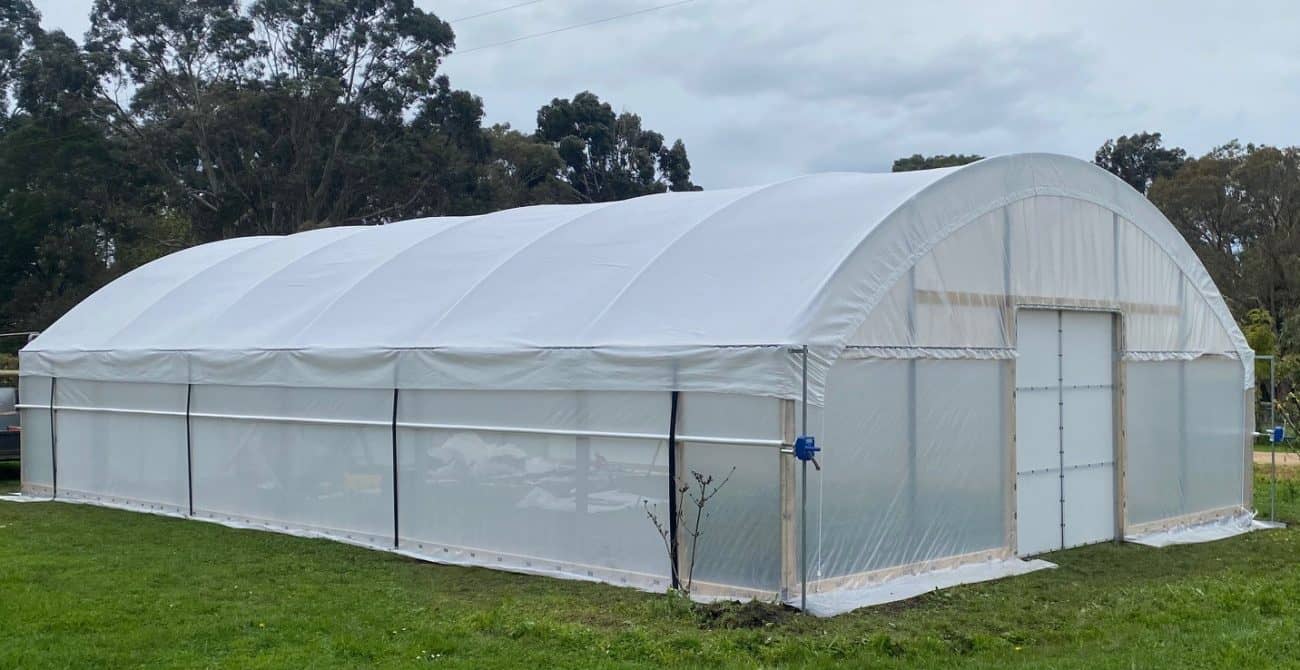 Sage Horticultural offer a range of greenhouses, plastic tunnels and accessories. If you are looking for the highest quality green house Australia has to offer….you've come to the right place! Browse through our polycarbonate greenhouse lean to series, polycarbonate premium imperial series or polycarbonate prestige series of greenhouses for a high quality solution. We also offer benching and shelving for growing houses, plastic tunnel green houses such as igloos, polytunnels, hoop houses and hot houses, mini houses, hot and shade houses along with a great range of accessories.
Whatever the size, whatever the means, we can provide an appropriate greenhouse to suit. We stock a range of Australia's best-loved brands and can cater to pretty much any space. Our lean to series of greenhouses is perfect for those who are limited with space and require a greenhouse to fit a side wall or space by your garage or shed. For more extensive greenhouse needs, our prestige series and premium imperial series is the perfect fit with greenhouses to cater for medium-large size quantities of plants.
As you trawl through the range of greenhouse kits and greenhouse accessories that we offer, you'll notice some common elements. All our greenhouses and greenhouse accessories are high quality, multi-purpose and of course, competitively priced. Best of all, no matter where you are located in Australia, you will be able to avail of our high quality products and competitive prices as all of our greenhouses and greenhouse accessories are available online.
Need other gardening supplies in Australia or horticultural products? Sage Horticultural is your one-stop-shop for all your gardening and horticultural needs. Be it greenhouse plastic, gardening tools, plastic pots, seedling trays, propagation equipment, glass houses Melbourne, nursery trolleys & barrows, fertilisers or irrigation equipment, we've got you covered! Shop online and be sure to get in touch on 03 9796 3100 if you have a question. Our expert team would be glad to help!
Home Greenhouse Solutions for Australia
There is no denying it, once you have the taste for cultivating plants and growing it is very difficult to shake free of it. At Sage Horticultural, we appreciate that horticulture and gardening are vocations to most. Whether they start out as hobbies, or if they have always been a key part of your business, it is likely that you take your work home with you and rarely go a day without working with the soil.
As such, a home greenhouse is a natural step to take for the majority of gardeners and horticultural enthusiasts. Assuming you have the necessary space, home greenhouses can be considered a luxury that affords you the opportunity to pursue your passion all year around.
Best of all, when you drop into our store, you can find a huge range of premium products that are priced in a manner that makes them highly accessible and enables you to spread your wings and grow your garden as you see fit.
Melbourne greenhouses have a particularly challenging set of climate conditions to deal with all year around. However, their presence ensures that you can comfortably grow and protect the integrity of your investments in a dedicated space that offers control and, consequently, a certain kind of peace of mind. 
Buy All the Greenhouse Accessories You Need Right Here
At Sage Horticultural we specialise in greenhouses, but we also supply a wide range of other gardening products such as fastening materials, propagation equipment, irrigation, and water saving equipment, handling equipment, gardening pots and much more.  You can also buy anti-bird netting and bamboo stakes from Sage Horticultural. Get all the equipment and materials you need for planting from our well-established business.
Buy Fine Quality Greenhouses in Australia
A greenhouse or glasshouse is one of the best home improvements you can make. These useful horticultural buildings offer you and your home many positive benefits.  Greenhouses can be used for numerous purposes, and these charming garden features give you room to grow everything from seedlings to exotic plants.
How to Choose the Best Greenhouse Prices
When it comes to choosing the perfect greenhouse, most people will first consider greenhouse prices. However, this is not the best way to choose the right greenhouse for your unique needs because the value of a good greenhouse exceeds purchase price over and over again over years of use.
Top greenhouse for propagation – Seedlings don't require a lot of space to grow, so our mini greenhouses are ideal for propagation. Remember, to get the most from your seedlings, it's always best to sterilise your greenhouse between uses.
Top greenhouse for herb gardens – You can grow herbs in any greenhouse, but a mini house is the best for these types of gardens because it can be placed close to the kitchen for enhanced convenience.
Top greenhouse for winter growth – Heated greenhouses are the best choice for growing plants during the cold winter months.
Top greenhouse for hobbyists and frequent gardeners – If you are a frequent gardener but cannot afford a glass greenhouse then polycarbonate greenhouses are an reasonably priced solution.  These greenhouses are constructed with aluminium frames, but instead of glass, they are fitted with polycarbonate sheets.  They offer the same classic look as glass greenhouses but are much more affordable.
Simply give us a call for a free quote on any of our greenhouse prices types and sizes or to find out more about our affordable quality greenhouse supplies.
Some Key Advantages That Greenhouses Deliver
Given that you will have increased opportunities to grow and the possibility to extend your growing seasons as a result of investing in a greenhouse, this can help those that rely on their produce to generate a portion of their income to meet the demand of their core market all year around. What's more, it empowers you to plan more effectively and budget accordingly.
At Sage Horticultural, we love that no matter what the weather, a green house makes it possible for any grower to leave the comforts of their home and step into an enclosed world that simultaneously offers shelter to those delicate plants within its walls and allows you to give the time and due consideration required.
Furthermore, greenhouses in Victoria create the optimal growing environment for whatever plants you hope to grow. Given the ability to take measures to control the temperature and adjust for light and shade, this can expand the range of plants it is possible for you to grow, which might otherwise be impossible.
Here at Sage Horticultural, we fully appreciate the need to conserve natural resources where possible. As such, we regularly speak with customers that attest to the energy saving benefits their green houses in Melbourne enable them to generate. Water conservation is one of the key areas that receive a boost in this regard, and as the world inches closer and closer toward more environmentally sustainable practices, embracing this trend is an undeniable step in the right direction.
Of course, as gardeners, you are already making a valuable contribution to the environment, and the health benefits associated with immersing oneself in a clean space every day speak for themselves. Cleaner air, the ability to avoid pesticides and the sustained presence of beneficial bacteria will all promote a better place for your plants to grow, and for you to while away the hours in.
Helping You Find the Perfect Solutions
If you are looking to buy high-quality greenhouses online, we encourage you to get in touch with the team here at Sage Horticultural. No matter if you are a hobbyist or a full-time producer, we would love the opportunity to discuss the extent of our product range and help you find the perfect solutions you need.
So, why not make now the time to join countless other Australians that have invested in greenhouses and add a beneficial space that will add value to your garden and bring a little more joy into your life? We look forward to assisting you in any way we can.
Read Less
Lately we've been
blooming
Sage Horticultural provides a range of personalized services to support the requirements of each individual. From the home or hobby gardener to the commercial grower, schools and government departments, we can give you advice for all your horticultural needs.
We are an Australian family owned business, established in 1965 as Sprinkler And Garden Equipment (SAGE). Since then we have diversified to become a one stop shop for horticultural supplies, structures and services. Today, as well as our Hallam store we sell products and provide advice to customers all over Australia.