Bamboo Stakes for Sale
Plants are delicate, and as they are growing, they begin to need some extra support to prevent them from being damaged. The best way of tackling this problem, while ensuring healthy growth, is by using bamboo stakes.
Stakes are an affordable yet very effective piece of gardening equipment, and if you live in a windy area, they're exactly what you need to stop the slightest breeze from killing your greenery.
Read More
Growing Tall Plants? Make Sure to Order Bamboo Stakes
Bamboo Stakes provide support for plants, but that doesn't mean you have to tie every single plant in your garden to them.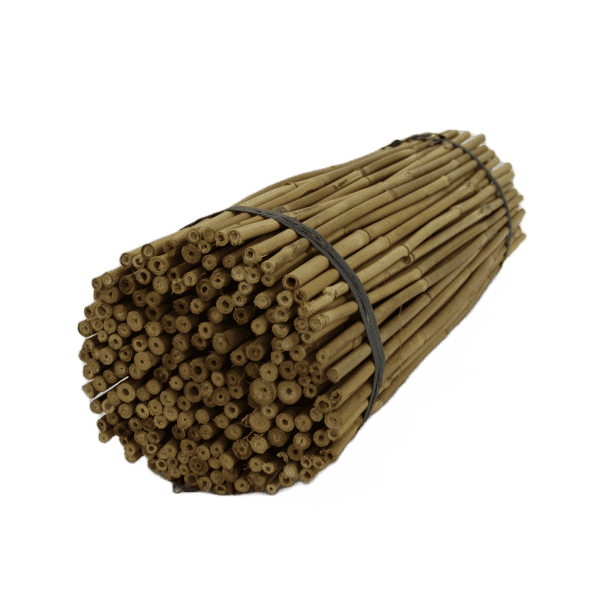 It can be tempting to take this extra step to ease your mind, but ideally, you should only use bamboo stakes for plants that struggle to support themselves. Why? As nervous as the wind might make you, it's actually a good thing for plants to be hit with wind.
Light winds help to strengthen your plants while they grow and unless strong winds are an issue, don't give in to the temptation of "staking" every plant in the garden.
The Proper Way to Use a Bamboo Stake
Using a bamboo stake is easy but remember how delicate plants can be; you must take care when tying your plants up.
If you're using tree stakes then you might consider using multiple stakes. Trees are a lot bigger (and heavier) than plants. Therefore a single stake might not provide enough support.
When it comes to securing a plant to the stake, avoid using wired ties. Opt for a softer material – string and wool are both perfect for this job – and don't make your tie tight. A loose tie allows the plant to benefit from the breeze and strengthen, but because of the added support, there's minimal risk of it snapping.
Why Order Bamboo Stakes from Sage Horticultural?
Bamboo garden stakes can be a game changer and here's why Sage Horticultural is the ideal choice for all of your gardening products.
Affordable: Gardening should be a relaxing activity, and costs shouldn't be what hold you back. All products in our store are reasonably priced, and our delivery costs are minimal, allowing you to buy what you need without breaking the bank.
Convenience and Handling: Ordering from our online store is convenient and means that you don't have to go out of your way by visiting a garden centre. Quality doesn't have to be compromised for this benefit, and as such, we take extra care when delivering easily damaged goods like stakes.
Experienced Professionals: We've worked in the industry for almost four decades, and with our experience, we're able to pick out the best horticultural products for our customers. This also enables us to provide services such as technical advice for gardening equipment and preparing fertiliser formulations (specific to each customer's needs!).
Order Your Bamboo Stakes Today!
Bamboo garden stakes are important for making sure plants remain healthy and with our product line, there's no reason not to fill your basket.
Have a question to ask us about bamboo stakes before you order? Get in touch with our team by dropping an email in our inbox at [email protected] or feel free to brighten our day with a call on 03 9796 3100, and we'll do what we can to help.
Read Less