Say "greenhouse," and most imagine a glass structure. However, this traditional design is a thing of the past, with a more modern, efficient, durable, safer and affordable alternative on the rise. The world's smartest growers are turning to plastic sheets for their greenhouse, which offer unbeatable protection, easier maintenance, better insulation, lower costs and higher yield, and are the ultimate choice for the most eco-conscious and environmentally aware gardeners. Not sure if this superior kind of sheeting is right for your plants? Then let these incredible benefits help you decide:
Clear plastic sheeting, especially those made with polycarbonate material, insulates plants more efficiently compared to glass sheets because they retain heat more and suffer less heat loss. Also, plastic sheets can typically endure average temperatures far better than other kinds of sheet materials, which means they're less likely to break, thus saving you money in the long run.
Stronger Durability and Safety
Plastic sheets are more durable because they're pliant and not brittle like glass, and they're completely shatter-proof and therefore safer, particularly in areas with harsh weather, or even where sporting events occur (flying footballs won't shatter your plastic sheets!) On the other hand, glass breaks easily under stress and it's heavy and expensive to replace, so all it takes is a hailstorm or heatwave to do costly damage.
The only con here is that some plastic sheeting can be thin and therefore risks tearing. Plus, several layers may be required to achieve the same level of protection as glass. Plastic can also look less appealing than glass and can turn an unsightly yellow shade after some time.
Easy to Use and Minimal Maintenance
Plastic greenhouse is lighter and simpler than glass, making it far easier to handle and fit into place. And because plastic greenhouse sheets are very flexible, they can handle more abuse and wear and tear, so you won't have to replace them very often. Additionally, plastic sheets are easy to replace provided you have the correct dimensions. However, glass sheets are more difficult to replace, and will usually require expensive professional installation due to how hard they are to install without damage.
Efficient Light Diffusion and High UV Protection
Greenhouse plants need the right amount of sunlight, and as a greenhouse owner, it's down to you to get that balance, lest your plants become sickly and die. This is why plastic sheets are a great solution to ensure adequate sunlight plus protection: they're clear, highly durable and weather-resistant whilst providing more efficient light diffusion and UV protection than glass. What's more, it's thought that plastic sheets offer higher protection from radiation because the material is UV treated – a feature that also allows the manipulation of sun wavelengths to help improve plant growth.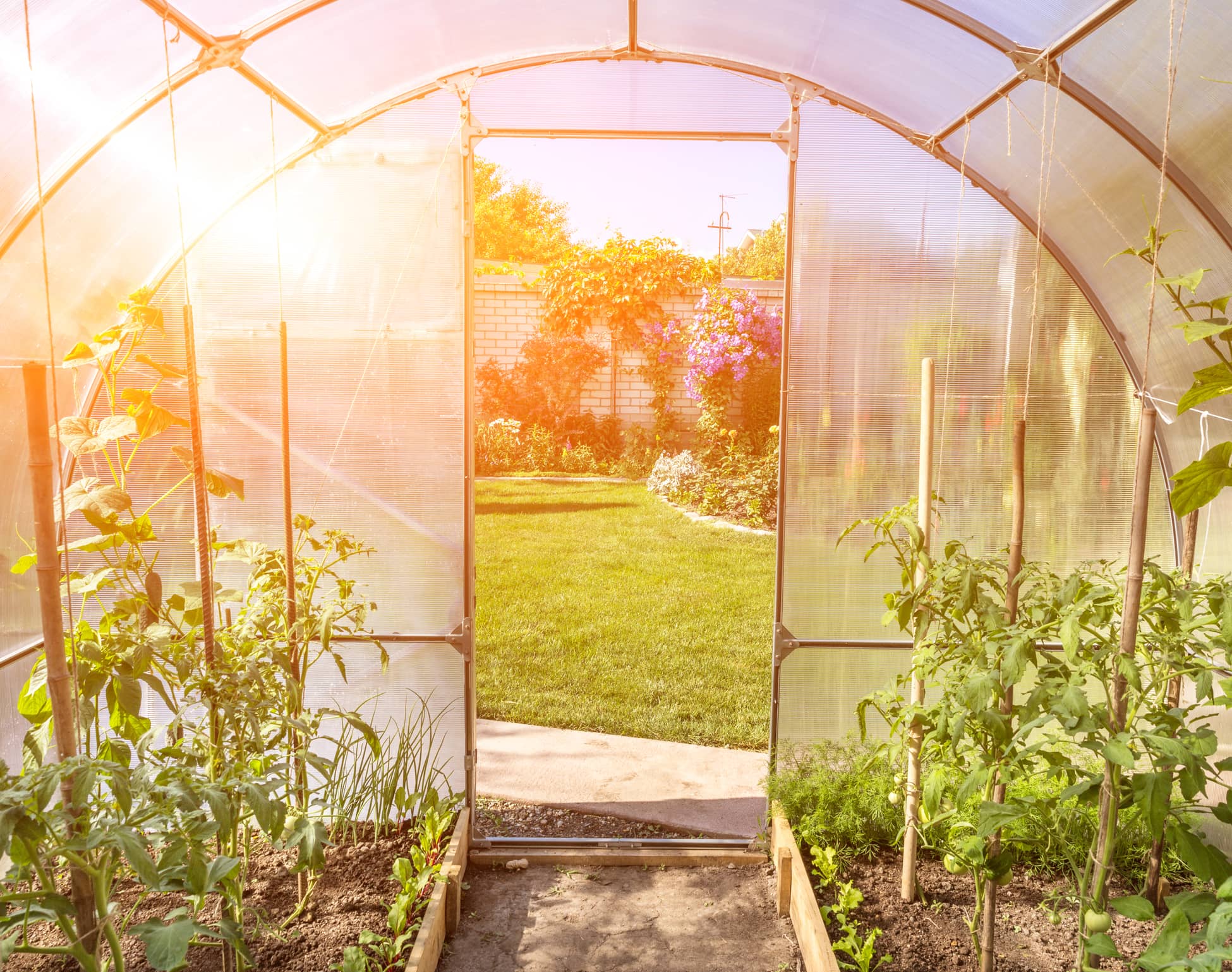 Greenhouse plastic films are cheaper than glass sheets and are more affordable in terms of maintenance. They also take away the need for artificial lighting, which saves you money on your electric bills, not to mention being a preferable alternative for environmentally conscious plant lovers. Furthermore, having plastic sheets means you won't need to laboriously move plants around to different parts of your greenhouse to protect them from the harsh sun. This is because plastic sheets protect plants from harmful ultraviolet rays, preventing them from suffering radiation burns. For smaller placees, we can always go for mini greenhouses.
Plastic films are perfect for growing plants and produce all year round, which is ideal for those who wish to grow and/or sell vegetables and fruit without seasonal limitations. Of course, extending your growing season may entail extra heating in the coldest months, but you'll need less since plastic sheets are better insulators than glass. In other words, better insulation means reduced energy costs for you, coupled with a higher plant and produce yield throughout the year.